For a variety of reasons more and more people work alone. They often at risk of injury or physical confrontation.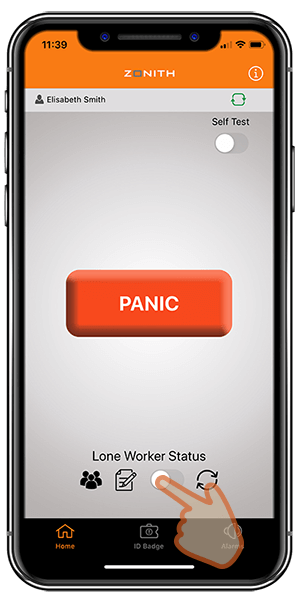 Activate Lone-Worker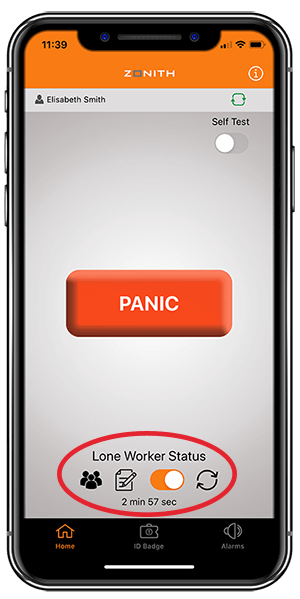 Lone-Worker Active
The adjustable timer starts counting down.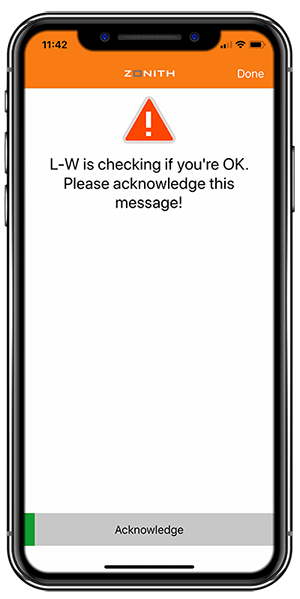 Lone-Worker regularly sends "Are you OK?" messages.
Pressing ''OK" – means everything is fine, the timer starts over. You can acknowledge it also by double click the button on the badge!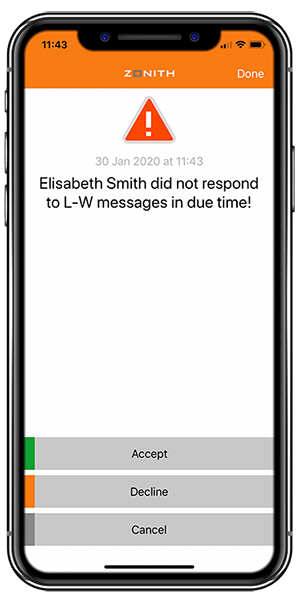 If there is no confirmation, team members, security personnel or ARC receive automatic notification immediately! ACTION IS TAKEN!
How to use the Lone-Worker Protection function
First of all, let's imagine that when you work alone, you get injured, and you are not able to call for assistance!
ZONITH's Lone-Worker App automatically calls for help whenever you can not do so yourself.
The service periodically checks if you are OK, and if you do not confirm it, it calls for help on your behalf.
Discreetness guaranteed when you pair the app with ZONITH ID Cardholder!
Using the cardholder gives you an extra level of security. You can raise a panic alarm or confirm "Are you OK?" messages, discreetly without attracting attention.
Your smartphone can stay in your pocket, so that nobody around you becomes suspicious.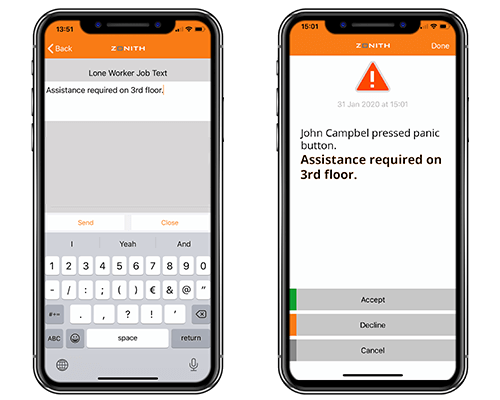 Guidelines for first responders
The user can add descriptive messages before they start their new lone-worker task.
The texts are sent together with the alarm to colleagues in team and/or to the emergency response team.
The messages can tell about road obstacles or any additional problems.
The texts also works if a visit takes place in the ground floor building. The GPS position there is then combined with the info on which floor the visit takes place.
Work in TEAMS or rely on security
During visits and working in teams, it's a great advantage to be able to send alarms directly to colleagues in the group.
With the ZONITH App's team feature, it's easy to add and remove members before a job. Assistance alarm can go to team colleagues!
Team members receive direct alerts and assistance calls from other team members. Colleagues can manage the alarms.
Also alarms can be sent or passed to the next guard to the emergency response team for further assistance.
Contact our safety experts
Western Denmark and Industries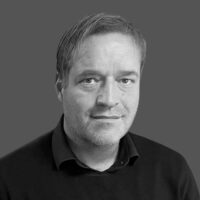 Eastern Denmark, Sweden, UK, Ireland & International markets
Norway, Germany and Benelux
"No matter where you are located ZONITH staff safety solutions will safeguard you!"